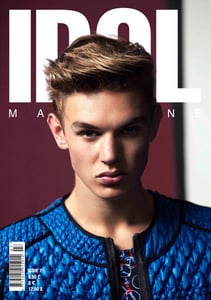 £

6.50 - On Sale
PUBLISHER: 
IDOL LTD
COVERS: Models JOHNNY ELDERFIELD @ Elite, MAYYA SKRIPCHENKO @ Select Model Management, Photographer DAVID RALPH, Creative Director REBECCA MOORE, Fashion Director SIMONE LA-ROSE,
Make Up Artist MARIA ASADI, Hair Stylist KIM ROY
PRINT RELEASE 
OCTOBER 10TH 2014
SIZE: 
A4, 148 pages
DELIVERY TIME: 
WITHIN 10 DAYS OF ORDER/RELEASE DATE
What do you think about when you get dressed in the morning? What is the force behind your decisions on what to eat or where to hang out? How do you decide between right and wrong? What influences the way you live your life?
Influences around us are far greater than ever before – and almost impossible to escape. This can often be a subconscious thing, but even when we are not in full focal awareness, there is something that makes us pay particular attention to a theme, person, lifestyle or item within popular culture.
Sometimes almost over night we acquire an unshakeable love for someone or something. Iconic people, items and movements within sociology or culture attract huge fan bases. Some of which become idolised to the point of madness.
It has never been easier to find people whom we share similar opinions, outlooks and ideas with. We flock together with people that we share common grounds with, exchange habits and new followings are formed. Joining, or joining in on something collectively also gives people a sense of belonging. Sometimes we even build up a wall to anyone who isn't part of our particular interests or culture.
In this issue we explore some of these theories. Director and journalist Misha Janette gives insight into the world of fashion and trends in Japan. We explore Antwerp to uncover the new generation of fashion's finest and pay homage to the greats that have been.
The question 'Is Grime Dead' is answered by DJ and marketing manager Sian Anderson who shares insight into London's controversial music genre. We speak to YouTube sensations Maxine Ashley and Pia Mia, and Mr. Hudson tells us why we shouldn't play too much attention to youth-obsessed culture.
Photographer Derek Ridgers shares stories on capturing cult movements as an outsider. We explore the East London based movement Run Dem Crew and renowned sneaker collector Kish Kash gives us his take on sneaker culture. Street artist MissMe tells us why she calls herself an 'artful vandal' and Daniel Arsham talks to us about the importance of making his work accessible on different levels. Finally we examine the 'All-Seeing Apps' and argue why social media is the new leader.
It's safe to say as individual as some of us like to think we are, whether we like it or not, we are all made up of everything that we choose to surround ourselves with!