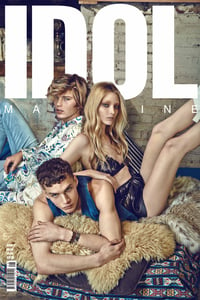 £

6.50 - On Sale
COVERS: Models LYDIA HUNT @ Wilhelmina, JORDAN BARRETT @ IMG, LOUIS MAYHEW @ DNA
Photographer: GREG SWALES
Fashion Director: RYAN DAVIS
Make Up Artist: MARIO DEDIVANOVIC @ The Wall Group
Hair Stylist: ANDREW FITZSIMONS using Oribe Hair @ ABTP
Set Design: MOHAMMAD DAGMAN
Production Assistant & Videographer: LAVOISIER CLEMENTE
SIZE: 
A4
DELIVERY TIME: 
WITHIN 10 DAYS OF ORDER
Easy to feel but hard to define, LOVE is a paradox that manifests itself through countless forms in and around us. It's the universal language that gives us purpose and meaning in the relationships we have, the work that we do and the dreams that we seek.
People love and experience love differently. It can make perfect sense, and sometimes none at all. Whatever it gives you, it challenges at the same time. Love is life's biggest contradiction. At it's best love can fill us with tremendous joy and happiness. When love is lacking in us, it can lead to self-destruction, false ideals and heartbreak. Whatever the journey love takes us on, we all experience it in one way or another. It is at the core of our being – a desire that never expires.
In this issue we explore love in some of its ever-varying forms. From the bonds we share with siblings, lovers and friends, to the love we feel within us, and how it influences the surroundings we create. We talk to Filmmaker and Director Frédéric Tcheng about his love affair with film, and his passion for showing all sides to a story.
Best friends and bandmates Lolawolf talk us through their journey from hanging out as neighbours, to creating successful music together. We delve into the intimacy of creating work as a couple music duo OOFJ, and learn about how opposites not only attract, but can perfectly compliment each other. Poet and writer Robert M. Drake shares stories about the love that influences his words, and the sadness he feels from not being able to share his work with those that he loves the most.
Artist Zackary Drucker reminds us that loving yourself is a daily process, and that loving oneself is the only way to love another person. We explore lack of self-love with photographer and artist Ji Yeo, and learn how she faced her own insecurities through art. Fashion rebel Chris Lee Sauve chats to us about cultural obsession, false idols and the relationship between love and fashion.
Art directors, photographers and twin brothers Jalan and Jamel Durimel explain the importance of honestly in any relationship, sharing a state of mind with someone and growing with them. Mercury Music Prize 2014 winners Young Fathers teach us about organic friendships and creating authentic music.
Photographer Sophie Green explains us how she finds creativity and inspiration in a deep compassion for other people and their stories. Finally, artist Davina Semo describes love as an experience and journey through a complexity of emotions that unconsciously reflect in her work.
Enjoy and love, always!