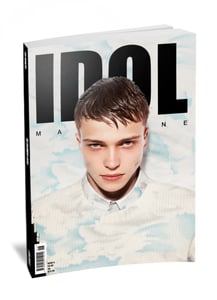 £

6.50 - On Sale
PUBLISHER: 
IDOL Magazine
COVERS: Models MARLI @ Premier, JAKE @ Select Models, Photographer SIMON THISELTON, Stylist JUSTIN HAMILTON,
Make Up THOM WALKER using MAC Cosmetics, Hair Stylist ROXANE ATTARD @Beach London using Bumble & Bumble.
PRINT RELEASE 
SEPTEMBER 2013
SIZE: 
A4, 184 pages
DELIVERY TIME: 
WITHIN 10 DAYS AT YOUR DOORSTEP 
(wherever you are)
THE DREAMERS ISSUE
They say that DREAMERS are out of touch with reality; impractical idealists with their heads in the clouds.
But if reality is everything that is or has been, how can there ever be progression? DREAMERS look past boundaries and limitations and believe that we can create a reality from even our wildest, most theatrical dreams. After all, every great creation started with an idea and a vision.
In this issue, we celebrate THE DREAMERS – those visionaries who think beyond practicalities. Those not willing to take no for an answer. Those who work hard, survive adversity and make their dreams reality.
Our fashion features include an interview with top casting director Angus Munro, who tells us how important it is to stay one step ahead of the game. International fashion photographer Kristian Schuller shares his work and thoughts on being a dreamer.
We hear the ins and outs of the music business from Cortez Bryant and Al Branch of The Blueprint Music Group. Ssion's headman Cody Critcheloe expresses his love for visual art and tells us about being more than a musician.
Set designer Rhea Thierstein describes how she found her calling in art and design through an internship. Photographer Anton Kusters explains the benefits of being emotionally connected to his projects, and what it was like documenting one of the world's most dangerous families.
DREAMERS from all walks of life have one thing in common: the ability to look past the impossible to create new realities.
'It always seems impossible until it's done' – Nelson Mandela.