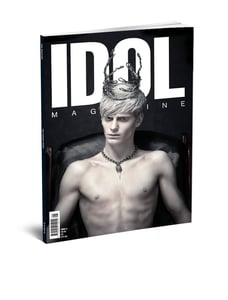 £

6.50 - On Sale
PUBLISHER: 
IDOL Magazine
COVERS: Ben Allen @ Select, Yana P @ FM, Photographer Michael Furlonger, Stylist Laura Jane, Make Up Artists Bunnice Allen & Thom Walker, Hair Stylists Leigh Keates & Stefano Mazzoleni, Props/Set Designer Lorna Kelly.
PRINT RELEASE 
FEBRUARY 2013
SIZE: 
A4, 184 pages
DELIVERY TIME: 
WITHIN 10 DAYS AT YOUR DOORSTEP 
(wherever you are)
THE POWER ISSUE
Power is having the confidence to be yourself and the freedom to create. Being brave enough to push boundaries, seek and seize opportunities and go beyond the expected. Mastering the skill of being persistent but patient and remaining optimistic when things don't go to plan. Having the ability to express individuality or shared beliefs and ideals between people. Acquiring the power of impact and influence on others, captivating and inspiring.
In this issue we sought out individuals who in some way depict the above.
Our fashion features include talks with sought-after director Johan Renck about his career, influences and what makes a powerful subject. The Webster's Laure Hériard Dubreuil shares her journey and thoughts on being patient, grounded and staying true to you along the way.
The once faceless band, The Neighbourhood, tell us why doing what they want for a living empowers them; and we discuss power in the music industry with dubstep producers Rudimental.
Sheng Qi talks to us about the power of freedom of expression in his art; and Stuart Semple tells us why ideas don't necessarily need big platforms.
Film director Sacha Gervasi tells us about landing the highly anticipated flick 'Hitchcock' and Gael Garcia Bernal talks about "doing things properly."
Creative minds are beautiful but busy. And since they tend to wander, I chose a well-known quote to guide us back each time we wandered too far;
"The greatness of a man is not in how much wealth he acquires, but his integrity and his ability to affect those around him positively."
- Bob Marley