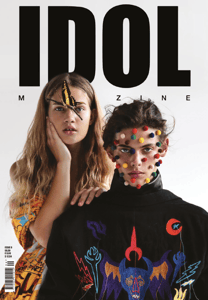 £

6.50
PUBLISHER: 
IDOL Magazine
DELIVERY TIME: 
WITHIN 10 DAYS AT YOUR DOORSTEP 
(wherever you are)
THE SURREALISM ISSUE
Disclaimer: This is not going to be a lesson in surrealism.
As a brief introduction of my personal definition: surrealism explores the beautifully bizarre, depths of our subconscious - an artistic expression for the often non-rational functioning of thought. A platform for the unexplainable and absurd, it provides a means of escapism from the constraints of cultural norms and enforced moral standards.
In this issue we look at how surrealism is defined today and how it has become an integral tool and source of inspiration to many artists.
We observe the surreal works of Brea Sounders and Teresa Freitas, whilst Photographer Anaïck Crozon challenges our perceptions of the human form.
We explore modern surrealism with jewellery designer Alan Crocutti, the art of reinvention with menswear designer Chelsea Bravo, and the art of transformation with renowned head-stylist Julien D'Ys.
Film directors Rania Attieh and Daniel Garcia discuss the absurdity of real life and what pushes them creatively.
Our favourite illustrator Achraf Amiri shares his route of escapism through his alter ego and we get to know digital adventurer and imagination architect Joshua Harker.
East London's electronic-soul duo Honne shares the stories behind their lyrics and visuals. We talk surreal success with American rapper and songwriter Fetty Wap, while Pefuse 73 brings to light the importance of social restraints.
Finally, we speak with a selection of exceptionally talented video artists about the meeting of dreams and reality through visual experimentation.
For me, the greatest thing about surrealism is its freedom of expression. It's unapologetic, subjective, and knows no boundaries. As my favourite artist Salvador Dali once said: "Surrealism is said to be the symbolic language of the subconscious; truly a universal language, it doesn't depend on education, culture or intelligence."