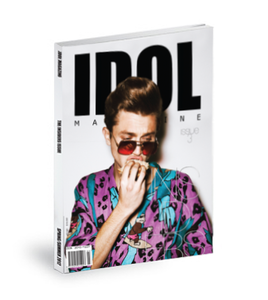 £

6.00 - On Sale
PUBLISHER: 
IDOL Magazine
COVERS: Josh Tuckley @ Select, Sophie Yall @ IMG Models London
Photography Mark Cant, Styling Gabrielle Stival, Hair Liam Curran @ Balcony Jump using Bumble & Bumble, Make Up (Josh) Claudine Blythman @ Balcony Jump using MAC, Make Up (Sophie) Yuka Hirata using MAC Pro, Styling Assistants Luke Taylor, Chloe Edwards, Hair Assistant Karen Fenton.
Inside Cover Artwork Achraf Amiri & Domenico Cordua
PRINT RELEASE 
February 2012
SIZE: 
A4, 188 pages
DELIVERY TIME: 
WITHIN 10 DAYS AT YOUR DOORSTEP 
(wherever you are)
THE INSIDERS ISSUE
When strolling in the city mid-Fashion Week as the members of the fashion world hover in their six-inch wedges, press passes swinging from their necks and their cameras close to hand, it can be easy to feel a world away from that dream. When browsing through style websites, admiring the selection of fabulous designs worn by A-List stars, it can seem so glamorous, so easy for them. And when you're at a concert, shouting a singer's name, it can appear that they just made it overnight. It can seem like those lucky ones belong to a limited circle of a limited number of people and there is limited access to them.
IDOL begs to differ.
We are certain many of you know this already, but let me assure you: they didn't just make it, they didn't fall into it. And even if there are a few lucky ones who did, they still work bloody hard to keep it up. If insiders have any special advantages or influences it is because they have created them through hard work, passion and determination. An 'insider' has firsthand knowledge through experience.
In our third issue, we break down the industry walls. We explore the worlds of fashion, art and entertainment with features on producer Labrinth, editor Hilary Alexander, director Vashtie, instrumentalist Skylar Grey and actor Aneurin Barnard. We go further than the studios and the red carpet and explore insider stories from overseas, such as those of individuals who risk their lives to document the scenes of worldwide war and disaster in 'Behind the Firing Line' . Ana Finel Honigman also joins us as contributing editor, reporting from Berlin's scene.
Whatever fields you aspire to get into, there is an insider you can turn to for words of wisdom, advice and guidance. In this issue, we show you where they came from, where they are now and exactly how they made it.
Afterall, every 'insider' was once an 'outsider.