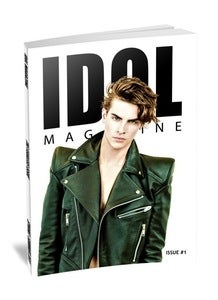 £

5.00 - On Sale
PUBLISHER: 
IDOL Magazine
COVER: 
Russel Giardina @ Elite London, Photography by Elliot Morgan, Creative Director Rebecca Moore, Stylist Ryan Davis, MUA Xabier Celeya
PRINT RELEASE 
May 2011
SIZE: 
A4, 178 pages
DELIVERY TIME: 
WITHIN 10 DAYS AT YOUR DOORSTEP 
(wherever you are)
THE FEARLESS ISSUE
Join the circus, write a novel. Become a dancer, a singer, a designer, a filmmaker, a politician or an activist. Don't fear the worst but be driven for the best. Nobody gets anywhere by not moving forward and the only way anything can be achieved is by pushing yourself beyond your comfort zone. The future as it's always has, belongs to the fearless. There is no future if boundaries remain untouched and ideas unchallenged. Ideas and morals have developed over time as people have defied critics and challenged what they know, IDOL celebrates those people that challenge the consensus and lead us to something new.
It's not about ignoring fears of rejection or criticism, but its about not letting it hold you back, if everybody stopped themselves from potential failure then nothing would be achieved, nothing would be challenged, fashion wouldn't evolve, music wouldn't excite and film wouldn't inspire. Fear is an important part in motivation, the prospect of creating something that inspires and excites people should be enough to overcome any reservations that you might fail.
IDOL looks to boundary-pushers in everything from fashion and extreme sports to music and art. In our first issue, we look at inspirational and fascinating talents, both established and aspiring.
IDOL Magazine Issue 1 is themed; THE FEARLESS ISSUE devoted to Go Getters and creatives from around the world.
Our first ever issue features interviews with the singing sensation Jessie J, legendary fashion designer Pam Hogg, the plastic fantastic artist Pandemonia, go getter celebrity sunglasses designers Coco & Breezy plus many more amazing individuals, articles and editorials.